PROFESSIONAL TREE SERVICE
COMMERCIAL • RESIDENTIAL
CS@TREESMARTINC.COM
(800) 791-5082 • (540) 862-0469
Welcome to our Bios page. I would like to thank every employee listed below, and past employees for their hard work and dedication to the company. Our employees have taken this company to where we are today and without dedicated employees going the extra mile for our customers, we would not have the excellent reputation, and work ethics we are known for today. Along with many individual certifications, all of our employees hold a current first aid and CPR certification that is nationally recognized. Thanks again to our great employees, present and past.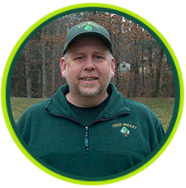 Dwayne Broughman
Dwayne began his career with Tree Smart in 2001 when the company first originated. Being one of the first of three workers he was a groundsman working closely with owner, Robert Ryder, in building the company and reputation to what it is today. In 2003 the company had grown to where he moved to a sales position in which he held until 2012 when an opportunity to purchase the company was presented to him.  After consideration and recruiting the office manager, Bonnie Ryder, to be his partner, they purchased the company, and continues to operate under the strict code of ethics and professionalism on which it was founded. He continues to do sales and customer contacts, along with running the day to day operations so he can meet and create a personal relationship with the customers.
Dwayne, now Owner/President, is married, has a son, and a nephew that he considers his son, living with him in the Sharon area of Clifton Forge Va. Being a lifelong resident of this community, he is a member of Lonestar Advent Christian Church, Sharon Volunteer Fire Department since joining as a junior member in 1982, Clifton Forge Rescue Squad since 1987. Being an EMT and holding many offices over the years community service has been a large part of his life.
He enjoys camping, hunting, riding 4 wheelers, and any other outdoor sport, with his biggest enjoyment of spending quality time with his family. 
Known to many as being a perfectionist, he carries that passion and standard to anything he does, whether it's his personal life or his business. He personally guarantees your satisfaction with any work Tree Smart Inc. performs. Dwayne has a class A CDL certification.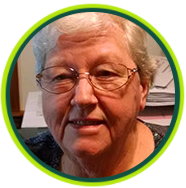 Bonnie Ryder
Bonnie began her career as bookkeeper with Tree Smart in 2005 when approached by her son and owner, Robert Ryder.  The business was growing and Robert was unable to do day-to-day operations and keep the books necessary for the business.
In September 2012, an opportunity was presented to her to go into partnership with Dwayne Broughman and purchase the business.  Dwayne had been a family friend for many years and Bonnie felt the partnership would be a good one.
Bonnie, now Owner/Secretary, has a son Robert, and two grandchildren.  She lives in Clifton Forge having been a resident of this community since 1966.  She is a member of the White Sulphur Springs Baptist Church serving as Church Clerk, WMU Director and Sunday School Teacher.
She enjoys spending quality time with her family and friends, church activities and going to the YMCA for water aerobics.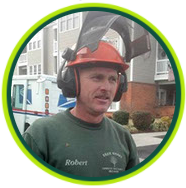 Robert Ryder
In 2001 Robert moved back to this area, after successfully running a large tree company in Ohio, to be closer to his family. Upon moving back Tree Smart was started with good friends Dwayne Broughman and Larry Hinkle. In September 2012, the business had grown and while Robert enjoyed the day to day activities, ownership was demanding too much of his time and the business was sold to Dwayne Broughman and Bonnie Ryder, so Robert could spend more quality time with his family.
Robert, currently our foreman, lead climber/ bucket truck operator, is a valuable employee knowing every aspect of the business and equipment; he can get the job done no matter the difficulty of the job.
Robert has been in the arborist field since 1991 and has the experience to complete any job from the simplest pruning to the most complicated rigging and hazardous crane removals. While in the tree climbing and moving around, we like to joke about the squirrels watching him to learn something from him about climbing trees, and sometimes calling him our personal team monkey. Along with his experience he is one of two Certified Tree Care Safety Professionals (CTCSP) on our team. He also has a Class A CDL for operating our larger equipment.
Robert currently lives in Clifton Forge VA, has two children, enjoys playing golf, traveling, sports of all kinds, and spending time with his family.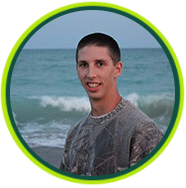 Jordan Brogan
Jordan joined the Tree Smart crew the summer of 2010 as an intern after graduating from James River High School. Over the next four years while continuing his education in the field of forestry he continued to work during the summers and school breaks. He started as a groundsman and with the desire to learn and gain experience he quickly took on the task of climbing and operating the bucket truck.
He attended Dabney Lancaster Community college in 2011 and 2012 graduating with an Associate's degree in Forest Management Technology. He then transferred to Va Tech in 2013 and 2014 and graduated with a Bachelor's degree in Urban Forestry with a minor in Horticulture. Upon Graduating Va Tech he came on board with us full time as an apprentice climber/bucket truck operator.
Jordan has continued with his education and received certification from TCIA as a Certified Tree Care Safety Specialist (CTSP) and has received his Class A CDL that allows him to operate our heavy equipment. Jordan is currently studying to test for his Arborist certification through The International Society of Arboriculture
Jordan lives in the Sharon area of Clifton Forge Va, and enjoys hunting, fishing, riding 4 wheelers and most any other outdoor activity.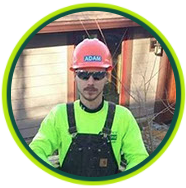 Adam Plunkett
Adam Joined the Tree Smart team in 2013. Adam was hired as a climber, bucket truck operator. He has been working in an arborist related field since 2009 and is a cautious arborist you can rely on to get the job done safely. Recently completing his Electrical Hazards Awareness Program (EHAP) through TCIA, he continues to advance his knowledge and skill level. Adam also currently holds his Class A CDL which allows him to operate our larger equipment.
Adam currently lives in Salem Va. and enjoys hunting, fishing, and 4 wheeling.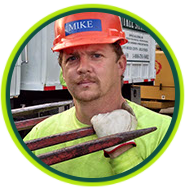 Mike Green
Mike Joined the Tree Smart team in 2006 as a groundsman. While not wanting to climb or operate the bucket truck Mike is a very valuable employee that has taken the position of groundsman to another level. He is currently our lead groundsman and takes charge as the crew foreman in his absence. Recently attending the TCIA Chipper Operations Specialist course, he puts safety above production at all times. Mike is also our safety officer, in charge of setting signs and cones at jobsites, making sure the employees have the safety gear they need and that the crew is wearing the gear as needed. Mike has a Class A CDL.
Working with our climbers Mike often knows what the climbers want or need before they do, and is waiting with equipment in hand before they ask for it. Mike is also our lead stump grinder operator 
Mike lives in Bedford and enjoys shooting pool and competing in tournaments. You will always find him cheering for his teams, Cowboys and Tarheels.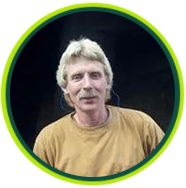 Lawrence Hinkle
Larry has been with the Tree Smart team since the beginning in 2001. He has worked both full and part time over the years, always being an asset to our company. Larry is great at motivating the crew simply by watching his performance. His mechanical abilities help keep the equipment serviced and in good working condition, and he can operate any equipment we have to get the job done. Larry mainly works as a groundsman, with occasional work from our bucket truck and light climbing.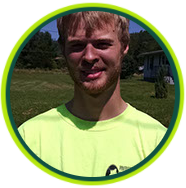 Andrew Gibson
Andrew joined the Tree Smart Team in 2014 as a part time employee, working while attending Dabney S. Lancaster Community College pursuing a degree in forestry. Andrew is a groundsman with climbing and bucket truck experience. We are glad to have Andrew with us as an intern.
"We value our customers and their needs, and in keeping with our strong family values, we take pride in supporting local community charities and organizations, including sporting events, dances, and especially children's events. We believe good relationships build strong communities, and we are committed to supporting our community."